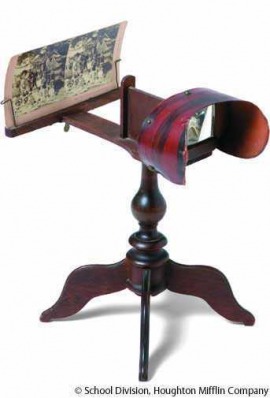 Stereocard images of the gallery and niche in the Old Senate Chamber
c. 1868
Images and scans courtesy of the Maryland Historical Society, P 3.8.
These images (c. 1868) are the earliest known photographic views of the Old Senate Chamber before the 1878 renovations by George A. Frederick to reflect the popular Victorian aesthetic, which stripped the room of nearly all of the original 18th century architectural features and building material. Both stereoviews are attributed to William Moody Chase, a prominent Maryland photographer and stereoview publisher, and are proof of the growing

national interest in the chamber and its historic associations.
Beginning in the 1850s , stereoviews were a popular medium of home entertainment--often capturing local histories, grand landscapes, and architecture to make them accessible to audiences across America.

S

tereoscopic views consist of twin photographs: one for the left eye, one for the right. When they are viewed through a stereoscope our brains combine the two flat images creating the illusion of objects in spatial depth.
These images provide us with great insight into some of the original architectural details of the Old Senate Chamber and are an invaluable resource. The first stereocard, a view facing south toward the gallery, is part of the J. Appleton Wilson Collection at the Maryland Historical Society and was a key piece of documentary evidence used in the 1905 restoration of the Old Senate Chamber. Since there is no documentation to support the alteration of the gallery or its decoration during the 19th century, this is the only detailed visual record of the original gallery as was built in 1777.
Like Wilson, this image will be employed in the recreation of the gallery; however, with the help of modern technologies we are able to study specific details that were not available to Wilson . This is apparent when the stereocard image is overlaid on an image of the 1905 restoration and one will begin to notice discrepancies among the two, such as the spacing of the columns.
Despite the clarification of minor details provided by these photographs, we are still faced with the monumental question, "What did the ends of the gallery look like?" Were they curved inwards? Or out (as interpreted by Wilson)? We are hoping to locate the verso image of the gallery view, which we believe will show the gallery ends.
--------------
Please contact the Maryland State Archives if you have any images of the Old Senate Chamber or any information regarding William M. Chase and his photographs of the Maryland State House.
Quick Facts:
Photographer: William M. Chase who was also working with David Bachrach Jr. at the time;
Employed at the gallery of R.D. Ridgeley, corner of Lexington and Eutaw (1867-1868);
Established photographic publishing house at same location (1872-1888)
.